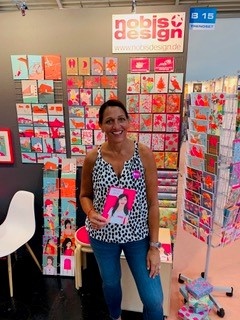 My enthusiasm for design, pattern and photography left me with no other option but to start my own publishing house. So in 2008 I started with 24 postcards by the wonderful art photographer Petra Steidel Wokeck from Stuttgart. On my travels, I discovered many great and outstanding labels behind which stood not only creative designers, but also impressive people, which led me to expand my publishing house to a wholesale.
My heart beats for many different styles, whether graphic, purist, naive, oblique, trashy, or even cheesy - I can not and will not commit myself. Each person is unique, feels addressed and touched by different things. Our postcards should make people happy and make each day seem a little brighter. Our products are made for extraordinary people who like to enjoy themselves and others.
nobis design is pink, neon, colorful, funny, happy, childish, friendly, modern, and sometimes a bit exuberant.
All products marketed under the nobis design label are manufactured in Germany, Switzerland or Austria. We use high-quality materials, we also use traditional printing techniques, such as screen printing or letterpress printing and captivate with loving details.
That's all me and together with my wonderful team, nobis design has become what it is today: a continuously growing company with beautiful postcards, outstanding stationery, fine labels and great clients in retail - from the classic stationery shop to the concept store.
Today, our product range comprises about 1,500 articles from more than 20 independent labels.
We are always open to new creative ideas, special and loveable series that we can include in our fancy portfolio. If you are too, or if you just like what you see, you've come to the right place.